Rent a cheap car for Dubai Terminal 3
By choosing to reserve a car rental for Dubai Airport Terminal 3 on VIPCars.com you can compare deals from top companies in one place & can save both time and money while doing so! So, if you are planning a trip to Dubai and have a flight destined for Dubai Airport T3 in the near future, rent a car on our booking engine and make your travel easy. This is what experienced travelers do - plan the trip with a cheap car rental at Dubai Airport Terminal 3 and explore the largest city of the United Arab Emirates on your own schedule.
VIPCars and its partners provide access to a variety of car hire deals for Dubai Airport Terminal 3 that cover all budgets and travel needs. No matter whether you are looking for a luxury car rental, an economy car for a solo trip, a sedan for a small group of four, or a people carrier for a bigger group of family & friends, you will not be disappointed. Just follow the car hire procedure given below, book a deal and explore Dubai in uttermost comfort in your cheap DXB Airport rental car.
Process of Renting a Car for Dubai Airport Terminal 3 with VIPCars.com
You can book your Dubai Terminal 3 car rental by following our easy three-step booking process, given as under:
SEARCH

You can start searching your DXB T3 car hire deal by filling our search form with asked information like date and time of pickup/drop-off, age, and country of residence etc.

COMPARE

After submitting the search form, use the filters given on the left pane of the 'Select' page and compare deals on the basis of suppliers, car categories, prices, and specifications etc.

BOOK

Once you have found the suitable deal, select it and book it by paying a small amount via our secure payment options. You will receive an instant booking confirmation by email.
The confirmation email will also contain a voucher that has all the information related to your Dubai T3 car rental, like car details, amount to be paid at the time of pickup, pick-up, and drop-off address, etc. You will need to present the voucher along with other mandatory documents – a driving license, a valid credit card & an ID – for successful pickup!
Car Rental Categories at Dubai Terminal 3
While searching for your DXB Terminal 3 car rental, you can expect to find the following car categories available for booking:
Economy
Standard
Convertible
Minivan
SUV
Luxury
Full-size
Compact
Location of the car rental desks at DXB Airport T3 :The counters of the car hire agencies at Dubai Terminal 3 are located at the lower level of the car park which sits opposite the Terminal 3 building.
Car Rental Companies for Dubai Airport Terminal 3
We work with numerous suppliers so that a big variety of car rental deals – that meet the budget, space, and traveling needs of many – can be put at your disposal. Our car rental suppliers at DXB Airport T3 are listed below:
Avis
Alamo
Budget UAE
Dollar
Europcar
Firefly
Thrifty
White and Black
Note that, while some of these car hire companies have their desks at Dubai Terminal 3, others offer 'meet & greet' services.
Petrol Stations near Dubai Airport Terminal 3
Though it varies from supplier to supplier, most of our suppliers offer full-full fuel policy; read the T&Cs for accurate information. Full-to-full means that at the time of pick-up your Dubai T3 car rental will be handed over to you with a full fuel tank by the supplier, but at the time of drop-off, it will be your responsibility to return the car with a full tank. Therefore, in case you are going to drop off your DXB rental car at the airport itself, for your convenience, we are providing a few gas stations which are located near the airport
ENOC
Distance: It is located approx 8 minutes from DXB T3 via Marrakech St
EPPCO
Distance: This gas station is located about 20 minutes away from DXB T3 on route E11
ADNOC
Distance: This gas station is approximately 20 minutes from Emirates T3 via Dubai-Sharjah Rd/E11
Dubai Airport Terminal 3 – Brief Outline
Dubai Airport's Terminal 3 is dedicated to Emirates and Qantas. It was opened in 2008 along with the airside facility Concourse B. Concourse A was made Terminal 3's part in 2016 when Concourse D was opened and about 60 international flights were shifted there. One of the interesting facts about Dubai Airport's Emirates Terminal is that it was once the biggest terminal in the world with the biggest baggage handling.
Though it has lost its former title of 'World's biggest terminal', its baggage handling system is still the world's largest. Also, note that Emirates Dubai T3 is served by Dubai Metro and is also well connected to Dubai via a good network of roads.
| | |
| --- | --- |
| Address: | Dubai International Airport Terminal 3, Al Garhoud, Dubai, United Arab Emirates |
| IATA Code: | DXB |
Getting to Emirates Terminal 3 from Dubai
---
DXB Terminal 3 is located in Garhoud on the Airport Road and is just a few kilometers from Dubai and its many city centers. There are two routes – E11 and Al Khail Rd/D68 – that you can take while going from Dubai to the airport in your Dubai Emirates Terminal 3 car rental or vice versa.
Note that at peak times, traffic on the main routes that lead towards the airport can cause delays, so plan your timing well.
Dubai Airport Terminal 3 Duty-free
---
Though Duty-free shops are located in all the terminals, the one in Dubai Emirate Terminal 3 is the biggest of all. Located in the departure area of terminal 3, it provides access to a great number of shops that remain open 24 hrs a day. At these duty-free shops, passengers can buy a range of products from alcohol to cigars, watches, perfumes, leather goods, electronic goods and jewelry etc. There are limits on the quantity that you can take onboard, for more info visit Dubai Duty-free' official website.
DXB Terminal 3

Facilities

DXB T3 Wifi

Dubai Emirates Terminal offers free Wifi which can be accessed by searching and selecting the "DXB Free Wifi" connection on your device. After that, open the browser and click on the 'go online' button.

ATMs and Money Exchange

Just after the arrivals, there are numerous ATMs – scattered all over the terminal – and one money-exchange counter by Travelex which is located in Arrivals Hall's Entrance no.2.

Lounges at DXB T3

First Class Lounge, Business Class Lounge, and Timeless Spa are some of the places on the Dubai Emirates Terminal where you can unwind, and spend some quality time while waiting for your flight.

Car Rental Desks at Dubai Airport T3

Various car rental providers have their desks at the airport; they are located at the lower level of the car park which sits opposite the Terminal 3 building.
Shops at Dubai Airport Terminal 3
From car rental desks to a variety that only Duty-free stores can offer, DXB terminal 3 offers enough shopping options to meet the needs of a variety of travelers.
Thrifty
Thrifty Rent-A-Car – part of Hertz Cooperation – has its rental desk in DXB Terminal 3.
Wi4Go
Here travelers can rent mobile Wifi hotspot, sim-cards and the hotspot devise chargers.
DDF - Confectionery
At this Dubai Duty free store you can buy chocolates & other fine foods for family and friends.
DDF - Pharmacy
It is a great stop for people who are looking for anti-malarial medicines and mosquito repellants.
Dining at Dubai Airport Terminal 3
Dubai Terminal 3 has seven dining options which are located in its Food court; Costa has 2 outlets, one of which is located in the arrivals and the other in the departures area.
Costa
You can enjoy great coffee, snacks and other drinks at DXB terminal 3's Costa at reasonable prices.
Burger King
This Burger King sells burgers and a variety of other specialties.
Cold Stone
Donuts, coffee and burgers are some of the highlights from Cold Stone's great menu.
Delizie
This family-friendly restaurant offers a great menu and free Wifi to its customers.
Subway
Giant Subs, Cookie Platter or sandwich platter, Subway is best known for its value for money menu.
The rupee room Express
The Rupee Room Express's menu presents a mix of veg and non-veg food items.
Hotels and Lounges at Dubai Airport Terminal 3
Besides the lounges and Hotels, terminal 3 also has a Timeless Spa where you can unwind, and spend some quality time while waiting for your flight.
Dubai International Hotel
Dubai International Hotel
Dubai International Hotel
How to Reach Dubai Terminal 3 from Dubai Airport T1 & T2?
Just find the transfer desk at the terminal where you have landed and get directions on how to proceed to the Dubai Emirates Terminal from T1 or T2.
Terminal 1 to 3
Emirates Terminal 3 is just a 30 minutes' walk from Dubai Airport Terminal 1. In case you need to pick your car rental or have to board your flight at DXB T3 in less than half an hour's time, it is better that you make use of the bus service that connects Dubai T1 to T3.
Terminal 2 to 3
For going from Dubai T2 to T3, show your tickets and tags to the transfer staff and they will guide you to the place from where you can board the dedicated transfer bus service provided by the airport.
Location of Transfer desks in Dubai Airport's Terminal 1 & Terminal 2
At Terminal 1, C Gates, look for transfer desk A for guidance.
At Terminal 2, F Gates, there is only one transfer desk which is located before the passport control.
Plan a Stopover in Dubai & Have the Time of your life!!
Every year, thousands of travelers, who have their connecting flights at Dubai Airport T3, make the best use of this opportunity to discover Dubai, through a pre-planned stopover.
All you have to do is check the visa requirements, make hotel and car rental bookings in advance, and you are good to go. Here are some of the most loved attractions in Dubai that you can easily cover in your Terminal 3 car rental during your stopover! This list will also be helpful if you have a really long layover to kill!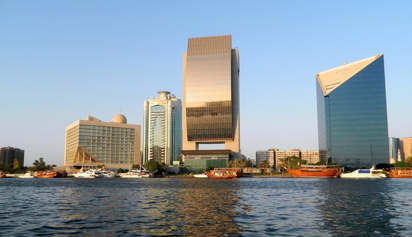 Dubai Deira
Located to the North of Dubai Creek, Dubai Deira is a great place if you want to see the city's life up close.
Home to traditional market places like Gold Souk, Spice Souk and Deira Fish Market, Dubai Deira's narrow streets which lead to the Souks are great for leisurely walks. The Corniche which goes through the waterfront is also great for a memorable stroll!!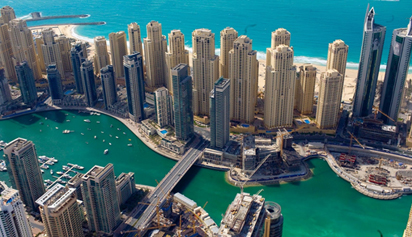 Dubai Marina
Dubai Marina – one of the most modern districts in Dubai – is built around a man made marina which is the largest in the world and is best known for its 7 kilometers long Dubai Marina Walk.
Studded with numerous boutiques, markets, and restaurants along its stretch, it is also home to Dubai Tram which connects Dubai Metro to all major parts of Dubai Marina.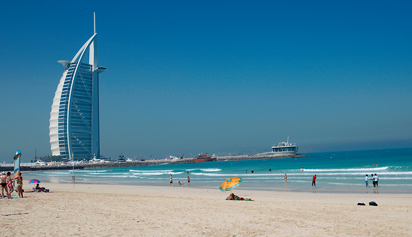 Jumeirah
Being Dubai's main beach area, it is best known for its many luxury hotels and resorts like Madinat Jumeirah and Burj Al Arab.
Not just hotels, it is also known for numerous malls, boutiques, and restaurants that flock this part of the city. Another must-visit is Safa Park which offers places for sports activities, playgrounds, and areas full of lawns and gardens.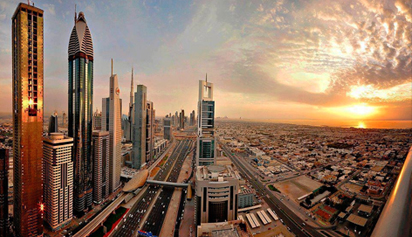 Sheikh Zayed Road
Sheikh Zayed Road is home to many marvels. The First one is the Dubai World Center (DWC) which is known to host various sparkling events like Dubai Sports World and Gitex Shopper etc.
Just next to DWC sits the Dubai International Financial Center (DIFC) –which is home to bodies like NASDAQ Dubai – besides being a cultural and culinary hotspot.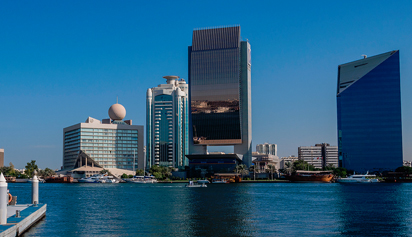 Dubai Bur
Just like Dubai Deira, Dubai Bur is also one of the oldest parts of Dubai! Located on the south of Dubai Creek, this place is affluent in historic attractions.
The museums of the 'Heritage and Diving Village in Al Shindagha', the ancient lanes of the historic Al Fahidi District or the only Arabic wind-tower houses left on the Arab side of the Gulf, Bur Dubai is a historic treasure trove.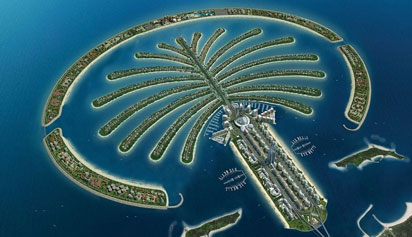 Palm Jumeirah
Palm Jumeirah is made up of numerous man made islands, which look like a big palm tree from above. Palm's most noted land mark and attraction is Colossal Atlantis, "The Palm".
The place has its own water park, private beach and Dolphin Bay besides numerous hotels like Fairmont, The Palm and the Viceroy etc.
FAQs - Car Rental at Dubai Airport T3