Car Rental Mall of the Emirates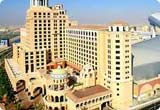 Dubai Mall of the Emirates is a shopping destination that is located in the Al Barsha district. The mall was developed and created by Majid Al Futtaim Properties. The footfall of the mall is always estimated to be over 31 million; such is the craze and popularity of the Dubai Mall of the Emirates. It is the second largest shopping destination of Dubai and it has hosted over 30.6 million visitors, in year 2009.

With brilliant architecture, this place is ideal for both the youth and the elderly visitors. There are many restaurants and shops available in the mall, for example, the Ski Dubai. Ski Dubai is the ultimate indoor snow resort and first of its kind. The theme of Ski Dubai is that of mountain and wintery theme. You can enjoy snowboarding, skiing, tobogganing and even simply reliving your childhood by playing with the snow. Rent a ride from VIP Cars and visit the place for experiencing the best of Dubai under one roof.