Car Rental Buenos Aires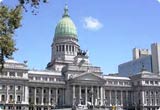 The Paris of South America; Buenos Aires is the largest city and the capital of Argentina. It is the second most visited and the second largest metropolitan area in South America. It is one of the most desirable cities to visit.

The city is one of the 20 largest cities in the world and one of the most important global cities and competitive markets of Latin America. It is the current candidate city to host the 2018 summer youth Olympics.
Buenos Aires is one of the top tourist attractions with its rich culture and European style architecture. The city has all sorts of tourist attractions like museums, art galleries and orchestras. For all those who want to get away from their hectic lives for a while, the city has cinemas, theaters and nightclubs. A must to experience activity in this Argentinean city is a Tango show.

Rent a car with VIP Cars now and enjoy your stay at Buenos Aires!