Car Rental Cordoba Downtown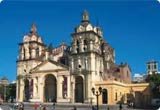 Cordoba Downtown is one of the bubbliest spots to spend your evenings. Conveniently located, the downtown is famous for its rich historical dominance. Cordoba downtown is home to several museums and art galleries, which besides displaying exquisite artifacts, provides a deep insight into the inception of the two major air force bases namely, the Waterkloof Air Force Base and the Swartkop Air Force Base. You can also drive to the Argentinean Air Force Memorial, the Garden of Remembrance, and the Irene Concentration Camp Cemetery.

Choose a suitable Cordoba Downtown car rental deal from VIP Cars in just three simple steps! We offer a large rental car fleet to choose from!