Car Rental El Calafate Downtown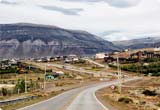 El Calafate Downtown has many accommodation, eating, and drinking, options. It was previously a small town that expanded quickly to meet the needs of incoming tourists who wanted to visit the spectacular Patagonian part of the country. It sits on the edges of the breath taking glacial lake of Lago Argentina. Many trekkers stay in the downtown area before heading out into the wild and rugged beautiful areas.

The unique Perito Moreno Glacier is a must see when in the area. It is the world's only glacier that is still growing. There are many viewing platforms from which you can watch and listen as enormous chunks of ice break away and fall crashing into the lake. There are other attractions in the area too, and the perfect way to get around with ease is with a rental car. Rent now and get best deals!