Car Rental El Calafate Airport [FTE]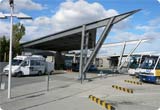 El Calafate Airport is a relatively new airport serving the city of El Calafate. The airport was opened in the year 2000, and is a major gateway to the stunning and spectacular Glaciers National Park. It has good services, amenities, and facilities for passengers, and is equipped with all modern features and security equipment.

There are already potential plans for expansions and further developments. The surrounding area is gearing up to see an increase in the number of visitors, with many more accommodation options springing up all the time, as well as places to eat and drink. Shopping facilities are also being upgrading.

A rental car from El Calafate Airport is more preferred and convenient means of getting to the city from the airport, at your own pace. Call now to find best deals online!