Car Rental Buenos Aires Downtown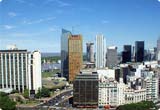 Buenos Aires Downtown is an exciting, captivating, and lively place at the heart of the Argentinean capital city. It is one of the biggest cities in the whole of Latin America, and is bursting with things to see and do. It offers an eclectic and fun night scene, as well as a varied choice of dining options. There are many places to stay in the city, with a range of budget options. It is also a major travel hub, and is well connected by road, rail, air, and sea.

You can stock up on a great selection of souvenirs and mementoes from a variety of outlets. The city is home to bustling markets and world class shopping centres, as well as everything in between. Sport and Tango are both incredibly popular in the city. Your best choice for car hire in Buenos Aires Downtown is VIP Cars.