Car Rental Cordoba Airport [COR]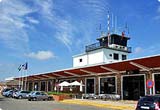 Cordoba Airport's official name is Ingeniero Aeronautico Ambrosio L.V. Taravella International Airport. It is often simply referred to as Pajas Blancas. The airport code is COR. It is located 9 kilometres away from the heart of Cordoba. It is the third largest airport in the country.

Airlines operating in and out of the airport include Aerochaco, Aerolineas Argentinas, Andes Lineas Aereas, Austral Lineas Aereas, Copa Airlines, Gol Transporttes Aereos, LAN Airlines, LAN Argentina, LAN Peru, and Sol Lineas Aereas. The airport has good facilities, services, and amenities for passengers. A preferred option for onwards travel is to rent a car.

The number one choice for all car hire needs from Cordoba Airport is VIP Cars. Our popularity is founded largely on cheap rates, great terms, reliable service, all inclusive packages, unlimited mileage, round the clock customer support, and an easy to use booking system.