Car Rental Mar Del Plata Downtown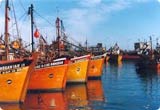 Mar del Plata is at the heart of the city, and is home to an abundance of places to sleep, shop, dine, and drink. It is a very popular holiday location, near to beaches and close to a range of interesting and fun attractions. There is plenty to keep visitors occupied at all time of the year. The area is served by air, road, and rail.

Places of interest in or near to Mar del Plata Downtown include the aquarium, Museo del Mar, the history museum, a zoo, historic homes, Museo Municipal de Ciencias Naturales Lorenzo Scaglia, Banquina de Pescadores, and Museo del Hombre del Puerto Cleto Ciocchini. No wonder it is so popular! Visitors can enjoy a great selection of fresh sea food dishes. Hire a car from VIP Cars to facilitate your travelling in Mar del Plata Downtown.