Car Rental Mendoza Downtown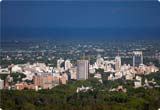 Mendoza Downtown has many places to eat, drink, sleep, and shop. You must try some of the local wine whilst in the area, given that the area is a famous wine producing region. It is also a good place to try some local beef. It is the lively part of the city in the Argentinean Cuvo region. It is close to the highest mountain outside of the Himalayas – Aconcagua.

Despite being a desert area, the natural system of irrigation provides many green places throughout the city. Some local places of interest that are in, or near to, the downtown include Parque San Martin, Independence Square, the Mendoza Museum of Modern Art, the Plaza Espana, Central Park, and the historic house of Casa de Fader. You can enjoy trekking, rafting, horse riding, climbing, and more.

To make the most of your time in the area, hire a car from VIP Cars.