Car Rental Salta Downtown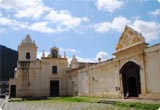 The geographical location, the ethereal appeal and the amenities offered for travelers make Salta a great tourist resort. There is so much to do and see in Salta that one is spoilt for options but for those seeking an experience of a lifetime, the Salta Downtown is the place to be.Dotted with eateries, wineries, museums, hotels and bars, Salta downtown is a dream come true for every traveler. Whether it is the Archeological Museum of High Mountains, national parks Of El Rey or Baritu, Wine Museum or Cafayate, the city has enough attractions to leave any traveler mesmerized.Holiday-makers prefer driving other modes of conveyance because of the breathtaking sights flanking Salta downtown on both sides.

Rent a car from VIP Cars and explore the irresistibly appealing downtown as you pass through the streets and have a first-rate experience of Argentina's culture.