Car Rental Puerto Iguazu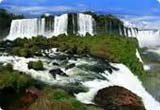 Iguazu is a beautiful place surrounded by many natural attractions and amazing sioghtsseing opportunities. The waterfalls of the Iguazu River are situated at the border of Paraná and Misiones. They divide the river into upper and lower Iguazu. If someone could imagine heaven, Iguazu's beauty is how one could picture heaven to be.

This place is a treat for everyone. With a height of 82m and an elevation of 195m, the water flow rate is 1,756 m³/s. Tourists can fly in at Cataratas del Iguazú International Airport (IGR), 25 km from the city. Rent a car from VIP Cars and spend time at the Three Frontiers, the La Aripuca resort, the Museum of Images of the Jungle, the Luis Honorio Rolón Municipal Nature Park and the Iguazú Grand Hotel and Casino with the independence of having your own schedule.

Book your car now!