Car Rental Israel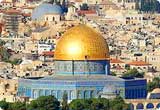 Israel is considered part of the Holy Land as mentioned in the Bible. This country is small yet has a long coastline that runs along the Mediterranean Sea. When touring Israel, it is highly suggested to rent a car from VIPcars.com. Traversing Israel with a hired vehicle from VIP cars is easier because the country already has a modern highway system and has a traffic system that is a lot like Europe.
When in Israel, you just have to check out these renowned places: Rosh Haniqra, this is a seaside rock cliff structure that is truly magnificent. If you want to see desert vistas that are unique, then head out to Machtesh Ramona land system that looks like a crater. They also have the Jesus Trail which goes through major Christian cities and even Copernaum. Parks and Reserves also litter the country.

A country with beautiful coastline, long historical background, sacred landmarks and more, Israel is best explored with a rental car.