Car Rental Afula Downtown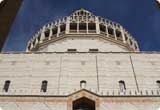 When visiting the city of Afula in the country of Israel and likewise known as the City of the Valley. The valley is specifically known as Jezreel valley. This city is easily reachable with a hired car from VIPcars.com and is just a ten to fifteen minute drive away from the nearby Megiddo Airport.
There are plenty of things to do in Afula Downtown. One of the highly recommended pastimes is checking out the Ha'Mitham a large shomping and entertainment complex. You can buy your souvenirs and gifts here. If you want to see the city's culture, go the local Art Gallery and check out the works of arts of local artists.
If you want to try local foods then go to Falafel Golani. It has the best tasting falafels in Middle East as reviewed by several locals. Falafel Golani is situated in Ha'nasistreet in downtown Afula.