Car Rental David Intercontinental Hotel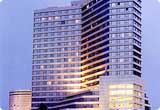 Situated in a fashionable and trendy area of the city, often referred to as the Soho of Tel Aviv, the David Intercontinental provides even more class and an air of luxury to an already trendy environment. VIP Cars gives you economical rental cars to get around Tel Aviv from David Intercontinental Hotel on your own.
Within easy reach of many interesting areas, and fabulous beaches, the David Intercontinental Hotel is a terrific place to stay whilst in the vicinity. All rooms offer unrivalled sea views, and whether visiting for business or pleasure the gourmet restaurants with delicious cuisine are sure to satisfy all tastes. An outdoor swimming pool and a Health Club are other features of this stylish hotel. Not only can you sleep in style, but you can also get around in style in a great rented car from VIP Cars. You can collect the car from your hotel, making it even easier for you to enjoy Israel's highlights and top destinations.