Car Rental Ben Gurion International Airport [TLV]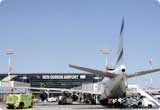 Located near Tel Aviv, Ben Gurion International Airport is Israel's main airport. It has the range of facilities that one would expect from a major transport hub, including shops, cafes, currency exchanges and information counters. Handling many international flights every day and with a 24 hour terminal, Ben Gurion International Airport is likely to be the gateway for many visitors and holiday-makers to Israel.
Save time, money and hassle by picking up a rented car direct at the airport. Self-drive holidays are by far one of the best ways to visit a country, and VIP Cars can provide just the right car on your arrival to Israel to meet your needs and surpass your expectations. Whether you plan a short visit or a longer adventure, a rental car can help you maximise your time and facilitate your travelling plans.