Car Rental Haifa Downtown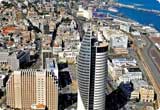 Haifa Downtown is a progressive area that is located at the heart of Haifa City, Israel. Haifa Downtown is nestled on the slopes of Mount Carmel and it is famous for the many historical biblical sites in the area.

Haifa Downtown is characterized with steep sloping streets that are in close proximity to the Mediterranean Sea. Aside from its rolling streets, Haifa Downtown is also considered as the music hub in Northern Israel as it hosts several music festivals that are attended by different musicians and artists all over the world. Moreover, with its many museums, it is easy to get lost in Haifa Downtown.

Getting around the downtown of Haifa is very easy as long as you have your own private car from VIPcars.com. VIP Cars provide reliable rental vehicles to different tourists, who want to travel around Haifa while enjoying affordable rates, as they have associations with local rental suppliers.