Car Rental Tel Aviv Atarim Station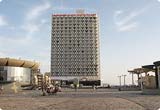 Atarim Station is also known as Central Station, and it sits near to Atarim Square, a failed project in the Tel Aviv area. Built on land that was shanty housing, and near to the beach, the square has a car park and a gas station on the lower floor. It was intended to house restaurants, a cinema, shops, and more, but today is mostly deserted. There are shops, however, in the same building as the Matina Hotel, located on one side of the square.

You can arrange to pick up your rental car from this part of the Tel Aviv area when you book online through VIP Cars. Other benefits of using VIP Cars include low, competitive rates, great terms, friendly service, unlimited mileage, and all inclusive car rental packages. Rent now!