Car Rental Eilat Downtown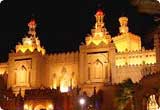 Eilat Downtown is located at the center of Israel's southernmost city, Eilat. As the center of this popular city, Eilat Downtown is at close proximity to the Red Sea thus this city is a perfect tourist destination for beach lovers.

The beach is just a few minutes from the Eilat Downtown. Aside from the beach, tourists should also visit the nature reserve of the Hai-Bar Yotvata which is located north of Eilat Downtown. The nature reserve boasts of the unique wildlife found in Israel.

Getting around Eilat Downtown is best experienced if you have your own rental car. That way, you will be able to get around the interesting places in Eilat Downtown as well as visit neighboring attractions. One of the most reliable car rental services in Israel is VIPcars.com. VIP Cars provide highly-maintained cars that can survive the concrete jungle of Eilat Downtown as well as the rugged terrains of the nearby attractions.