Car Rental Jerusalem Downtown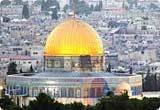 Jerusalem Downtown is a hive of activity in a city that mixes old and new. One of the oldest cities in the world, Jerusalem is also very important to three of the world's major religions – Judaism, Christianity, and Islam.
The core of the downtown is a pedestrianised street, home to many businesses including museums, galleries, shops, restaurants, and more. There are many accommodation options in Jerusalem Downtown, catering to all price ranges and tastes. With an enticing mix of ancient and modern sites, and a strong biblical heritage, one will certainly never be bored in the city!

Collect your rental car from Jerusalem Downtown when you make an advance online booking with number one supplier, VIP Cars. You can choose a vehicle to suit you, and all are subject to low rates, all inclusive packages, and excellent terms. Rentals are available for business travelers and tourists.