Car Rental Celje Downtown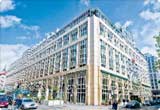 Celja Downtown is a bustling central area of Celje in Slovenia. The town is built around the confluence of four rivers and is also the meeting point for several major roads. It is a great place to be based for a holiday in the region and while there is much to explore on foot, there is also a lot to see a little further away and so hiring a car through VIP cars can open up a whole new list of places to go and visit.

One place to pay a visit to is the Old Castle, also known as The Upper Castle to distinguish it from the castle that sits within the city itself. The Old Castle is located on a prominent hilltop above the town and has had an interesting history. It has been a princely seat as well as a quarry and has undergone significant changes since it was built in the 13th century.

Call us to get top deals at most negotiable prices from leading rental companies in Slovenia!