Car Rental Ljubljana Downtown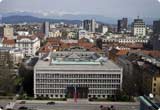 Ljubliana Downtown is an area of the city that sits outside of the pedestrianized central area. Downtown is a great place to pick up a hire car in order to take you out and about into the surrounding areas. You can book through VIP cars to provide you with the vehicle you require. We work with reputed car rental companies in Ljubliana.

There is a lot to see both in and around Ljubliana. Medieval buildings line the squares of Old Town and Ljubliana Castle sits on top of a hill looking down over the city. If you wish to see a slightly different side to Ljubliana you should head to Metelkova City. A location that used to house military personnel, it is now a place where artists gather and subcultures are developed. The bars and nightclubs are very popular here.
If you want something a little more peaceful you can go to Tivoli Park. There are plenty of park benches on which to enjoy the sun.