Car Rental Portoroz Downtown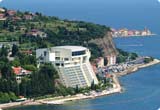 Portorož Downtown is located in the centre of the city and is a great place to find affordable accommodation and also to hire a rental car for the duration of your stay. You can book hire cars through VIP cars that will provide you with the freedom to explore both the city and the surrounding area.

In Portorož city you can take advantage of the numerous tourist attractions that include various sporting facilities, a beach, casinos and also a marina. The city also hosts various arts events throughout the year. If you wish to find some more traditional attractions you only have to travel a short distance in order to get to Piran, which is an old Venetian city that now lies within Slovenia. The architecture is spectacular and you can spend time wandering around the main square, which happens to be oval, amid its 13th century charms.