Car Rental Kranjska Gora Downtown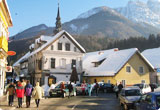 Kranjska Gora Downtown is a great place to go to start your adventure in the Julian Alps. Lying close to the Austrian and Italian borders this town offers great attractions all year round. During the summer you can hire a car and take yourself on a voyage of discovery through the beautiful valley that the Sava Dolinka River runs through, in the north west of Slovenia.

Once you get out and about you will find a combination of traditional mountain homesteads and villages highlighted by pretty white buildings and bright arrays of flowers, along with the starting points for just about any type of adventure you can think of. There are many trails you can take either on a mountain bike or on foot, or you can take a different type of adventure through the local folklore.

During the winter the area becomes a haven for all types of winter sport. No matter what season you plan to visit Kranjska Gora Downtown, a rental means you can plan your stay as per your convenience. Call us to book now!