Car Rental Maribor Downtown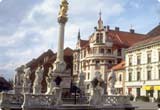 Maribor Downtown is a great place to start your visit to Maribor. You can hire a car in order to explore both the city and the surrounding area, which you can hire through VIP cars. There is a strong Jewish history in Maribor and the Maribor Synagogue is a monument to the Jewish community. Located on the Jewish Square, the Maribor Synagogue dates back to the 14th century and is documented as being the second oldest synagogue in Europe. It hosts a multitude of events and is a cultural centre within the city.

If you are looking for something a little more active you can head off to ski or to snowboard at one of the resorts nearby. During the summer there are plenty of trails that you can mountain bike one.
Maribor also has a number of parks, one of which has a high ropes course to test your bravery and your balance.

Hire a car now!