Car Rental Ljubljana City Hotel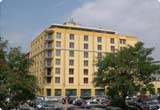 The Ljubliana City Hotel is located right in the heart of the city offering tourists easy access to everything that the city has to offer. Ljubliana is a beautiful city that is full of architecture and history. It is also full of life and so you should take the time to take in the atmosphere as you visit various attractions. You could take a walk into Old Town. Tucked in between the hill on which Ljublina Castle sits and the Ljublianica River there are two squares in Old Town each with fountains and medieval buildings surrounding them.

While there are plenty of things to drive to from Ljubliana City Hotel, a rental car also means you can explore the city outskirts and nearby areas. Call us to find your rental deal for Ljubliana!