Car Rental Maribor Airport (MBX)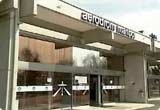 Maribor Airport lies to the south of the city and a ca r rental a great way to get to the city from the airport. Not only can you get to the city to experience all that it has to offer, you can also head out into the surrounding countryside to take in the beautiful scenery that is on offer. We let you find cheapest deals and widest collection of cars available to choose from.

The city has many attractions that are based around the wine industry. Lent is the home of the oldest part of Maribor, and also home to the oldest vine. There are a number of attractions in Lent that you can enjoy that range from the Old Vine House and its history of wine to the various towers, including the Water Tower, Judgement Tower and also the Jewish Tower.
There are a number of squares in Maribor, each of which has something to offer the tourist.

Whether travelling alone or with family, our rental partners offer car segments like economy, SUVs, Sedans and more.