Car Rental Bled Downtown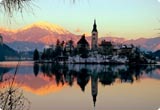 Bled Downtown is the central area of the town of Bled. The town is a pretty Slovenian town that has a long-standing reputation as a beautiful health spa town. If you decide you want to explore the surrounding area you can rent a car through VIP cars and find more of the delights of this extremely beautiful region of Slovenia.

You can make your way up to the stone cliff where Bled Castle looks down over Lake Bled and the town. The castle houses a museum and also is a base for tourists. There are options for mountain biking and hiking from the castle as well as hunting and fishing. If you wish to explore the lake you can take a boat tour to the only island in Slovenia where there is a church with 99 steps and bell you can ring for good luck. You might even see some of the prehistoric archaeological findings.

Make sure you book online in advance, to make the most of your stay!