Car Rental Belo Horizonte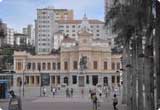 Belo Horizonte is the state capital of Minas Gerais. It is located in the south east of Brazil and it is the sixth largest city in the country. The area was first settled in the 18th century, but the city itself was specifically planned and built in the 1890s in a deliberate construction of a new state capital city to take over from OuroPreto. The city has an interesting mixture of architectural styles mixing classic and contemporary. It is not only the older architecture worth seeing, with buildings such as the modern Pampulha Complex being worthy of a visit.

The city is large and so in order to get around and see everything you want to see you can rent a car. You can do this in advance through VIP cars so all you have to do is to pick up your car when you arrive.