Car Rental Curitiba Airport (CWB)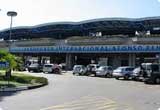 Curitiba is served by the Afonso Pena International Airport. It is located to the south east of Curitiba in the neighbouring municipality. The airport is named after Afonso Pena, who was the 6th Brazilian president. The airport was originally built during the Second World War, but has since had new terminal built for both passenger and cargo operations. There are currently 7 airlines operating out of Afonso Pena International Airport, all currently offering domestic flights. At the end of 2013 American Airlines will begin flights direct to Miami. There is a great deal of investment and improvement planned for this airport as it will be an integral airport of the 2014 World Cup.

The airport is a great place to hire a car so that you can head straight into Curitiba once you arrive. You can book in advance through VIP cars. It should also be noted that the Bacacheri Airport located in Curitiba does not currently offer any scheduled flights.