Book a cheap car hire deal for
Florianopolis Airport
Securely book a cheap Florianopolis Airport car hire deal within few minutes with VIP Cars. Working hand in hand with top rental companies in Brazil, we offer a huge rental car fleet comprising of compacts, economy cars, standard sedans, vans, SUVs, and premium luxury cars, so that you could find a car that best fits suits your mobility requirements and fits well into your budget as well. In addition to selecting your Florianopolis Airport rental car, you can also choose some useful add-ons such as, GPS navigation system, child seat etc.
Giving you the best car hire brands to choose from, along with cheap deals, VIP Cars is undoubtedly the right place to book a rental car for Florianopolis Airport.
At VIP Cars you get:
All Inclusive Pricing

Our Florianopolis Airport car rental deal comes inclusive of all standard inclusions such as unlimited mileage, collision damage waiver, theft waiver, third party liability insurance, associated taxes and fee.

Reliable Suppliers

Our rewarding alliance with well-known domestic as well as international rental car companies such as, Alamo, Hertz Car Rental, Localiza, Movida, Sixt, Thrifty Car Rental, and Unidas, assures you of a blanket of well-maintained vehicles ubiquitously spread across our entire range of car hire deals for Florianopolis Airport.

24/7 Support

With a dedicated customer support team always ready to assist you with your queries related to Florianopolis Airport car hire, you can get in touch anytime should a need arise.
Why use a rental car in
Florianopolis?
A popular tourist destination in southern Brazil, Florianopolis is best explored in a rental car. For a city that ranks among Brazil's largest metropolises and is also home to more than 40 beaches, along with several other worth seeing attractions, a rental car from Florianopolis Airport quite obviously becomes the most ideal way for exploration.
Moreover, there is absolutely no need to get stuck inadvertently in a public bus that is bound by irregular schedule and operates on clogged routes. Hiring a car for Florianopolis simplifies your commuting requirements by letting you bypass the laggardly public transport, resultantly allowing you to explore more in less time.
About Florianopolis Airport (FLN)
Situated about 9 miles away from the Florianopolis city center, Florianopolis Airport serves as a major hub for airlines offering flight connectivity to leading Brazilian cities such as Rio de Janeiro and Sao Paulo. The airport also has direct flights to Comodoro Arturo Merino Benítez International Airport (SCL) in Chile and Ingeniero Aeronáutico Ambrosio L.V. Taravella International Airport in Argentina (COR). Passenger terminals at the FLN offer a wide range of passenger amenities such as restaurants, ATMs, currency exchange counters, and fastfood joints among others. Hiring a car from Florianopolis Airport is popular among tourist as it allows you to discover beautiful sights as per your own schedule.
| | |
| --- | --- |
| Address: | Av. Dep. Diomício Freitas, 3393 - Florianópolis - SC 88047-900 |
| IATA Code: | FLN |
Where to go in Florianopolis Airport car rental?
As the mainland city and its island are well connected by bridges, you can conveniently drive to some of the best Brazilian beaches. Whether it is an island that you wish to drive to or a visit to some local shopping district, travel everywhere comfortably in a rental car from Florianopolis Airport.
Top attractions in Florianopolis include: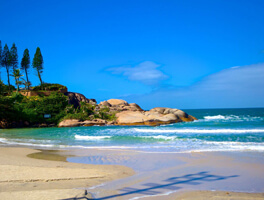 Greater Florianopolis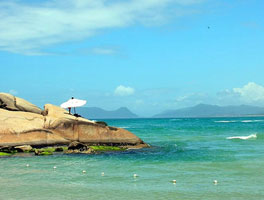 Joaquina Beach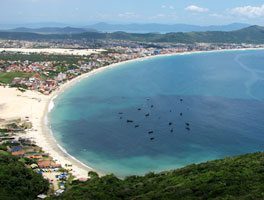 Prala dos Ingleses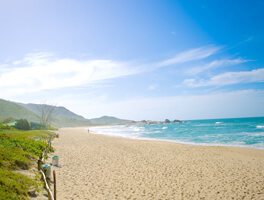 Mole Beach
Things to do in and around Florianopolis
Vibrant Nightlife
Popular among locals as well as tourists as one of the best party destinations of Brazil, Florianopolis lets you unwind your day in style. With so many decorated beaches around, you will eventually find a great party to hang out and make some friends.
Beaches
Chill out on any of the beaches, which are full of activities such as adventure sports. Some distantly located beaches are less crowded and offer best spots to enjoy swimming and surfing.
Seafood
Following the likes of other islands, Florianopolis also boasts of its culinary delights when it comes to sumptuous seafood. Right from exotic appetizers to a full course seafood meal, you can relish the best of South America in Florianopolis.
Surfing
Drive to Barra de Lagoa, an ultimate place for surfers. A 10 minutes drive from the city, the place attracts some of the world's best surfers.
Hiking
Look at no other place other than Lagoinha do Leste for hiking. A secluded breach, Lagoinha do Leste is known for its amazingly beautiful hiking trails. Lake Peri is another location where you can also enjoy hiking.
Sandboarding
If surfing or hiking don't excite you, go for sandboarding, which is another adventure sport exclusive to Florianopolis. With several white sand dunes scattered across the island, sandboarding will definitely set your pulse racing.
Sao Joaquim National Park
Covering a vast 50,000 acres, the Sao Joaquim National Park is by far one of the best places to watch wildlife and some rare plant species. Going with a guide or an elaborated map is strongly recommend due to the vast size of the national park.
Riberao da Ilha Village
A well preserved traditional fishing village, Riberao da Ilha charms you with its cobbled lanes, colorful houses, and secluded beaches. Known for its oysters, the village offers some decent eat out options.
Florianopolis Airport car hire tips
Traffic moves on the right-hand side in Brazil. Majority of the motorways surrounding Florianopolis Airport are single-carriageway roads.
Including a GPS navigation system is essentially required as there are as many as 40 beautiful beaches to explore and finding them on your own can be a challenge without using a satellite navigation system.
Florianopolis city offers plenty of parking space, paid as well as free, with paid ones being considered as the safest ones.