Car Rental Brasilia Airport (BSB)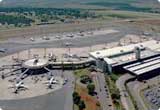 Brasilia International Airport, also known as Brasília-Presidente Juscelino Kubischek International Airport, is located just to the south of Brasília. The airport is a hub for Avianca Brazil, GOL Airlines and also TAM airlines. The airport was one of the first structures to be completed in the new city and replaced the old Vera Cruz Airport, which was later demolished to make way for the integrated bus and train terminal.

The airport has numerous flights to take you to other Brazilian destinations, but there are also regular direct flights to the USA and also to Portugal. The airport's proximity to the city means you can easily plan your commuting from the airport to the city. Hire a car online in advance to get around Brasilia city from the airport!