Car Rental Araucaria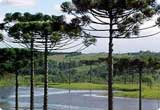 Araucária is a small town, which lies to the south east of Curitiba. The town lies on the Rod. doXisto road, which runs out from the ring road around the city. Araucaria is a good option for tourists who wish to stay somewhere smaller and with many more green areas and parks than Curitiba itself. There are a number of hotels scattered around Araucária with most lying on the south side of the Rod. doXisto.

The town is a lovely place to stay, but if you are looking forward to explore the much larger Curitiba, or even other towns and cities in the area, a rental car is advised. Call now to get your car rental deal!