Car Rental Bled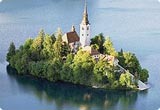 Bled is an unusual Alpine town that sits alongside a glacial lake, also named Bled. It is located in the north west of Slovenia and is home to the only island in the country. The island itself is located in the centre of Lake Bled and has a long history. Prehistoric human remains have been found on the island and it has been used through to the present day with the Assumption of May Pilgrimage Church.

Sitting on a rock overlooking the lake and the town is Bled Castle. The Castle is a great tourist resort where you can head off mountain biking and hiking into the nearby Triglav National Park.
If you are looking a little further afield you may wish to hire a car through VIP cars. You can get to skiing pistes as well as hiking trails that open up the amazing scenery of the local area.

Plan your stay in advance by booking your car rental online with us!