Car Rental Ljubljana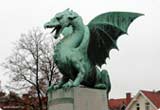 Ljubliana is the largest city that is found in Slovenia. It is also the capital city of the country. The city lies in the Ljubliana Basin in the centre of the country. Ljubliana has a charm about it that makes it a great city to wander round and absorb the atmosphere. The city hosts many events during the summer months so the streets come alive with dancers and musicians of many different types.

If you want to see more of the city you can book a car rental through VIP cars in order to cover more ground more quickly. You can see the Ljublianica River flowing through the centre of this incredibly picturesque city. A little further out is Ljubliana Zoo, which is reported to be one of the most beautiful animal parks that exist anywhere in Europe. If you are looking for history, you can visit the Architecture Museum that is within the city as well.

Call now to find out more about the available car rental deals at VIP Cars.