Car Rental Burgas Airport (BOJ)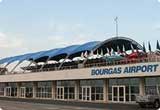 Burgas Airport is one of the busiest airports of Bulgaria. Burgas airport's passenger traffic comes from all over Europe and is heavier during the summer season. Burgas offers tourists plenty of attractions and things to do. So, if you are planning to arrive at the Burgas Airport for some vacationing, remember to book a a rental online at VIPcars.com. This way, you are ensured of a low pricing and all-inclusive rates whilst touring the countryside.
You have to check out the museums Burgas has to offer like the Ethnographic, Archaeological, Nature and Science Museum of the city. It will offer you a glimpse of its history.
Visiting Burgas is never complete without a trek to its beaches. Head out to the city's bay for some kite-surfing, swimming or rolling on the sand. If you are lucky, you can also explore St. Anastasia Island by boat. This is only offered every July and August.