Car Rental Burgas Downtown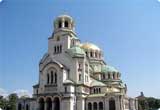 When in the city of Burgas, Bulgaria you must definitely tour Burgas downtown since it offers plenty of restaurants, shops, attractions and events. In order to make the most out of your Burgas downtown excursion car rental is recommended. VIP Cars is a leading rental car service provider well known for its all-inclusive pricing.

Now that you have a rented car, you can start checking Burgas Downtown. If you love to see local and international arts then head out to PetkoZadgorski, Briz-Boiadzhiev and Bogoridi Art galleries in Burgas downtown. If you love shopping then head to the center of the city for some locally made products. Burgas is also well-known for its gold jewelry shops. If you are in the city on the month of August, never miss the International Folklore festival which is the oldest music events of the city dating back to 1965. It boasts of Balkan dance festivals and folklore traditions.