Car Rental Sofia Airport [SOF]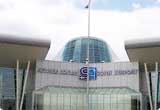 The Sofia Airport is the busiest airport in Bulgaria with direct flights from several European countries coming and going daily. The Sofia Airport is a 10 km drive to the city's center, so in order for you to have a hassle free arrival in your Sofia hotel, then it is best to book from VIP Cars.

Sightseeing in Sofia includes National Palace of Culture which is a communist styled monolithic edifice, IvanVazov National Theatre where you can experience local theatrical productions, National Museum of History which is located at 16 VitoshkoLale Street. Learn more about Bulgarian history and culture by driving to Sofia Art Gallery which showcases both local and international artists' work and St. Alexander Nevsky Cathedral this place boasts of being the biggest Orthodox Church in the whole world.
And if you get famished from all the sightseeing, head down to HadjidraganoviteKashti, locally famous for its tasty and traditional Bulgarian dishes.

Hire your car for Sofia Airport now!