Car Rental Golden Sands Resort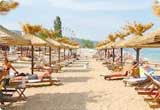 Golden Sands Resort is everything that a vacationing tourist could ever want and dream of. At Golden Sands Resort, Bulgaria you can have the sea, sun, sand, luscious forest, entertainment, water sports and many other fun activities within your fingertips. Of course, all of these activities can be easily and conveniently done especially when you have a car rental. At VIPcars.com, bookings are made online with a 3 step booking form of select, search and book.
At Golden Sands Resort there are plenty of attractions to partake in like: beer festivals, beauty contest, fashion shows, ballet, opera, parade, folklore, theatre and jazz. So whichever tickles your fancy, you sure are going to have the best time of your life.
If you love sports, Golden Sands Resort also has plenty of facilities to cater to your needs. You can check out the following: Bowling, Paintball and scuba diving with PADI accredited diving centers.