Car Rental Plovdiv Airport (PDV)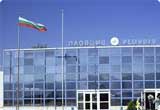 Plovdiv Airport provides easy access to the city of Plovdiv for local and international tourists. Plovdiv Airport hosts flights to and from Russia, Moscow, London, Milan and Frankfurt.
It is recommended that it is best to rent cars online at VIPcars.com because VIP cars is a leading car rental service provider with associations with the biggest rental suppliers thus we can give you low rates and all-inclusive pricing plans. This can greatly lessen the hassle of you Plovdiv trip.

Once you arrive at the Plovdiv airport, you can drive your rented car directly to the city's ancient structures like the Roman Amphitheater, Ottoman Mosque, St. Marina Church and the old town. You can also catch a free tour of Plovdiv which is done every Wednesday at 9:30 AM, just head out to the tourist information center regarding this free tour. Take note that you need to register in advance for this tour.