Car Rental Stara Zagora Downtown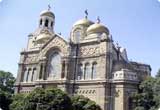 When you are in the district of Stara Zagora, it is only logical that you must explore Stara Zagora Downtown. You can easily do this by booking a car rental at VIPcars.com. VIP Cars is a leading car rental service provider that can guarantee you an all-inclusive pricing.

When touring Stara Zagora Downtown begin with the Regional Museum of History at 42 Ruski Blvd. It is considered as among the richest Balkan museum. It also houses a great many artifacts and art collections of the Roman, Thracian and Neolithic Era. Its highlights are collections of well-preserved glass, bronze, chariots and many other artifacts.

Other places to check are: The Opera House, South Gate of Augusta Trajana, Memorial House of Geo Milev, Defenders of Stara Zagora Memorial Complex, Ayazmoto Park, The SamrskoZname Monument, The Roman Baths, Thracian Tomb and many more. All of these attractions are located within Stara Zagora Downtown.