Car Rental Varna Downtown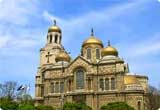 Varna is the second biggest city of Bulgaria. It is located within the Black Sea coast and well known as the summer capital of the country. Aside from that it is also the biggest seaside resorts among the many seaside towns that Bulgaria has.

When visiting Varna most people head out to its seaside resorts with plenty of watersport activities and to while away the time in the world class amenities of the hotels that dot the beach. However, you must also know that Varna downtown has interesting and historical sites to offer the avid tourist. Among the many attractions are: The ancient Roman Odessus remains, Thermae ruins with its historical relics, Battle of Varna memorial, Ottoman townhouses, the Palace of Culture and Sports where most trade shows and city events are held.
All of these places are within easy reach with a car rental. At VIP Cars, you are assured of an all-inclusive price package.