Car Rental Varna Airport [VAR]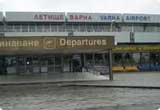 Varna Airport is also locally known as Aksakovo airport which operates flights locally and internationally. Varna airport has high passenger traffic because of Varna being one of Bulgaria's well-known touristy seaside towns.

So once you arrive at Varna Airport, it is easy to travel to your Varna hotel and other attractions and landmarks in the area with a rental car from VIP Cars. You can book online at VIPcars.com knowing that we are a leading rental provider.
One of the many things to do in Varna is check out its historical and ancient edifices like: the St. Athanasius, Euxinograd Palace, wood carved iconostasis at the Debar school, 20th century mansion, Art Noveau mansion, Festival Centre organ and more.

If you are also looking for festivities in the area, they have a handful of events slated the whole year round like: National Hip Hop Dance Festival, Christmas folk dance competition, Love is folly Film festival and many others.