Car Rental Sofia Downtown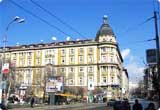 When in Bulgaria, you definitely have to take a trip down Sofia Downtown in order to experience the real Bulgarian culture and ambiance. Sofia is the capital city of the country and is filled with touristy things to do.
If you are looking for a party-filled night then head to Lodkite which is located near the Borisova Gardina Park. It is an open air pub where you can enjoy dinner, local scenery and lively music. When planning to visit Sofia Downtown, it is best that you have a rental car from VIPcars.com. We, at VIP cars, are a trustworthy and leading car rental service provider.


Rent a car now and plan your trip.