Car Rental Hotel Hilton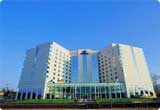 Hotel Hilton is located in the city center of Sofia, Bulgaria. It is a five star hotel with various amenities to offer its guest. Hotel Hilton is also locally known as Hilton Sofia.
The Hotel Hilton in Sofia is fully equipped to serve both tourist guest and business travelers. The Hilton Sofia offers spa and wellness facilities, sauna, steam room, indoor swimming pool, hair salon, garden, library and so much more. Each room is equipped with air conditioning, mini bar, coffee and tea maker, television, ironing facility and many others. For business travelers the following is an optional service: internet access, meeting rooms, audio visual equipment and catering services.
The hotel is within driving distance to Sofia's attractions like: VasilLevski Stadium, National Palace of Culture, BorisovaGradina and more. So, in order to see these places, get a car rental. Booking is quick and easy via online at VIPcars.com.