Car Rental Haskovo Downtown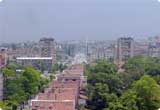 Haskovo Downtown is located in the southern part of Bulgaria within the province of Haskovo. It is bordering near the countries of Turkey and Greece. Haskovo downtown has plenty of attractions to offer tourists because of its long history dating back to 5000BC.
If you want to experience the arts and culture of Haskovo Downtown then head out to Ivan Dimov Dramatic Theatre where varied productions are showcased. The art gallery and historical museum are also a great source of local story on its history and culture. Another Hoskovo downtown landmark is the monument of the Mother of God. It is a 32 meter high sculpture and is in the Guinness World Book of records for the highest statue of the Virgin Mary in the whole world.
With your car rental, checking these sights is a breeze. If you haven't made booking yet, then check out VIPcars.com for an all-inclusive price deal on car rentals.