Car Rental Aveiro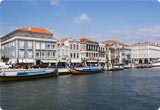 We, at VIP Cars, help travelers visiting Aveiro book quality car rental deals. Aveiro is a city located in Centro region of Portugal. This beautiful city is called the 'Portuguese Venice' due to its extensive canal system and boating. This city is also known for its university which is considered among the finest in the world. So, book now and avail of affordable car rental deals while visiting Aviero.

The beaches of Aviero are its most important attraction. São Jacinto, Barra and Costa Nova are the more popular beaches and offer activities such as surfing and sailing. Aviero's status as a university city also helps in lending it with a decent nightlife. Other popular attractions here include the Saint Domingo's Cathedral, the Lighthouse of Aviero, Convento de Jesus, Câmara Municipal and the Capitania.

So, contact us now and get exclusive online car rental deals in Aviero.