Car Rental Campanha Train Station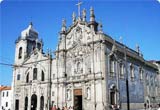 Campanha Train Station is the primary railway station located in Porto, Portugal for non-local train services. The station was opened in 1877 and has links to the Porto Metro as well as local services around Porto. Trains are controlled by Comboios de Portugal including the Alfa high speed train service. Porto is the 2nd major city located in Portugal. Amongst the architectural highlights of the city, Oporto Cathedral is the oldest enduring structure, collectively the small Romanesque Church of Cadofeita, the gothic Igreja de Sao Francisco and the remnants of the city walls. Porto's biggest event is Sao Joao Festival on the night of 22-24 June.

For travelers looking to explore all the popular city attractions situated near Campanha Train Station, it is advisable to rent a car.