Car Rental Lagos Downtown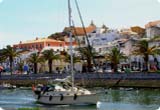 Lagos is a city located in the Algarve in the south of Portugal. Lagos is one of the most visited cities in the Algarve and Portugal because of its diversity of tourist-friendly beaches, restaurants, bars, and hotels well-known for its lively summer nightlife and parties. Lagos is also a historic centre of the Portuguese Age of Discovery. The downtown is sculpted with traditional architecture and colors from the region. Ponta da Piedade is a strikingplace with a fine lighthouse from where you can go for boat tours to the natural caves. Fish market is also an interesting place. The Mountain Bike Adventure provides all types of guided mountain bike rides in the Algarve. One of the most popular is being a ride beginning at the highest point of the Algarve and coming downalmost to sea level.

For travelers looking to explore all the popular city attractions, it is advisable to rent a car in Lagos Downtown.