Book a Car Rental for Lisbon Airport (LIS) & Explore Portugal in Absolute Luxury!
---
Reserve a car rental for Lisbon Airport on our booking engine, compare all the available deals for LIS airport in a single search and save money! Also, our booking engine provides various filters which make the comparison really easy; hence, no matter whatever your budget needs, car, and transmission preferences are, you will not be disappointed!
Book a car rental for Lisbon Airport (LIS) from VIP Cars today and save big on your next trip to Portugal!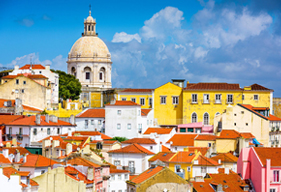 Procedure to Rent a Car

for Lisbon Airport (LIS)

Renting a car for Lisbon Airport is quite easy with VIP Cars; you can use the following paths to make a booking:
Book Online directly at VIPCars.com

Online booking with us can be made in 3 simple steps – Search, Compare and Book. Start your search by completing the form given above; just fill the information that has been asked, and click on the Select button. Compare the deals populated by our booking engine, & book your chosen deal by clicking on the select button given adjacent to it, and by paying a small amount.

Make a booking Offline by phone

You can also book your Lisbon Airport car rental by calling our helpline number for Portugal; besides helping you in booking, our team members are a treasure trove when it comes to car rental advice. You can also contact us through our email (support@vipcars.com) and live chat feature for any car rental or booking queries.
Car Categories Available for Renting at Lisbon Airport
VIPCars and its suppliers offer a large fleet of car rentals for Lisbon Airport so that the budget needs of all our customers can be met. The below-listed are the car categories which you can expect to come across while searching for your Lisbon Airport car rental:
Economy

Van

Fullsize

Mini

Convertibles

Luxury

Compact

SUV

standard
Note that the above-listed car categories might not be covered by all the suppliers.
Car Rental Companies that offer deals for Lisbon Airport
Every day, a varied range of travelers pass through Lisbon Airport, that's why for the travelers who would like to drive themselves to the downtown or beyond, our suppliers make sure that a great variety is always available at their Lisbon Airport car rental desks.
The following are our partners which provide best-priced car rental deals for Lisbon Airport:
Only Goldcar, Hertz, Sixt and Enterprise have their car rental desks at the airport which are located before security, and all the other partners of VIP Cars provide meet and greet service.
Car Rental Drop-off Locations near Lisbon Airport, Portugal
Besides the airport, our partners allow the renters to drop-off their hired cars at the following locations within the city of Lisbon: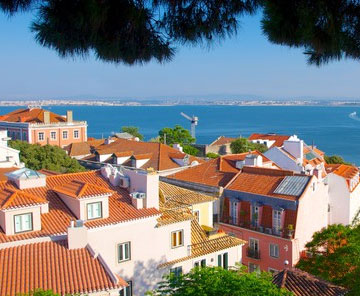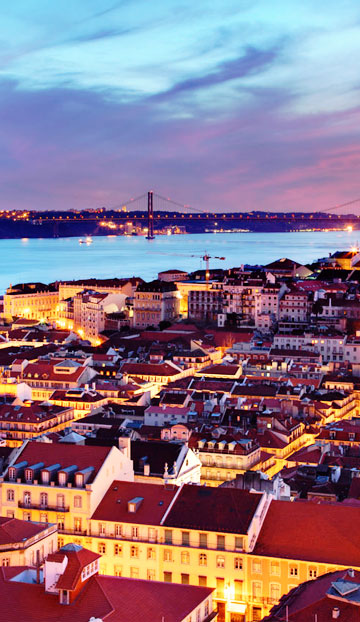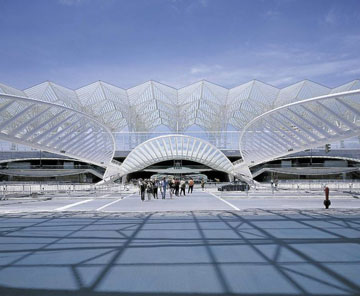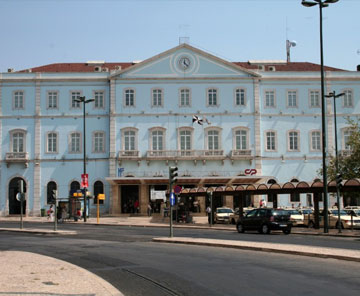 In case you are going to opt for interstate one-way in Portugal, just use the 'Different Drop-off location?'-section on your search form and select the Portugal city and the location where you would like to return the car. In case the place you are looking for is not listed in our form, have a word with one of our booking experts to know whether the location is covered or not.
Extras & Inclusions Offered With our
Lisbon Airport Car Rentals
Our Lisbon Airport car rental suppliers are known to provide various benefits with their deals. Almost every supplier offers Collision Damage Waiver, Theft Waiver, and unlimited mileage as inclusions which means that they come as part of the quoted price, for them you don't have to pay anything extra later! Similarly, our suppliers provide the provision of extras like baby seats, GPS, Wifi access and additional driver etc that you can rent at the time of booking. Unlike inclusions, they are not the part of the deal – they come as optional which you can add to your car rental booking by paying a small amount.
The inclusions and extras named above are for guidance purpose; they may not be offered by all the suppliers.
Points of Interest in Lisbon, Portugal
Lisbon is a beautiful city in Portugal which has numerous attractions in its repertoire. So no matter whether you are a traveler visiting on transit visa over a layover, or a vacationer who plans to explore every nook and cranny of Lisbon, here are a few attractions that you can visit in your rental car.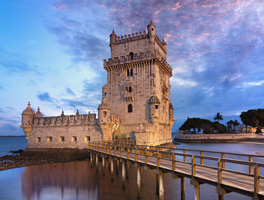 Belem Tower
Approx 17 minutes away from LIS Airport via E1 and A36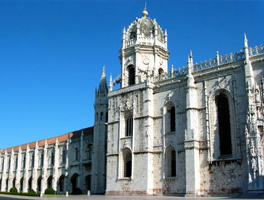 Jeronimos Monastery
Approx 20 minutes away from LIS Airport via E1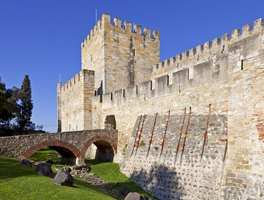 Sao Jorge Castle
Approx 22 minutes away from LIS Airport via Av. Alm. Gago Coutinho
Padrao dos Descobrimentos
Approx 19 minutes away from LIS Airport E1 and A36
Lisbon Airport – Overview
Serving the city of Lisbon, Portugal, LIS is an international airport in Portugal, which is also known by the names – Aeroporto de Lisboa, Aeroporto da Portela de Sacavém and Aeroporto da Portela. It is located about 7 kilometers from the city center and there is the 25th largest airport in Europe when it comes to passenger traffic. Though it is used by airlines like Aegean Airlines, Aer Lingus, Air Canada Rouge, Air Europa and Air France, it is the focus city for easyJet, Ryanair and Azores Airlines.
Lisbon Airport offers many facilities like banking and money exchange services – ATMs and bureau de change are located in both departure and arrival areas – 'meeting & conference' rooms, a business lounge with free Wifi, pay phones, and facilities for disabled people.
Alameda das Comunidades Portuguesas,

1700-111 Lisboa, Portugal

IATA Airport Code:

LIS

ICAO Airport Code:

LPPT
Duty-Free Shopping at Lisbon Airport (LIS)
Lisbon Airport is home to many duty-free shops which offer a range of things from books to gifts to accessories. The Divers and Relay Bookstore is the shop for you if you want something to read on your flight. If you want to buy some clothes from the latest fashion, Lacoste and Lune Bleu are the best places for you. Alegre is your best option if you want to buy something for family or friends.
Dining Options at Lisbon Airport (LIS)
Clocks
It offers steak sandwiches and hamburgers from renowned chef Chakall's kitchen.
Cockpit
Here travelers can order tapas, soups, toasts, salads, pastries and beverages.
Confeitaria Nacional
It is the oldest bakery in Lisbon and its Portuguese pastries are one of a kind.
Delta – Mundo do Café
If great pastries and a good cup of coffee is what you are looking for, Delta is the place for you.
Dots Bakery
Healthy bagel, the Portuguese pastry and the carob bread are some of the thing on the menu at Dots.
First Café
It is one of the best places in Terminal 1 to grab something – food or drink – on-the-go.
Shops at Lisbon Airport (LIS)
Absolutbeauty
It is a spa and hairdresser, which is designed for relaxation and one's head-to-toe care.
Accessorize
Accessorize offers the latest trends in apparel, bags, jewelry and accessories for women.
Artesanato do Aeroporto
At Artesanato do Aeroporto, you can buy anything from crockery to filigrees, pottery and cork items.
Adolfo Dominguez
It offers latest Italian-fashion-men-and-clothing-range for every season.
Airport Market
The store brings the best of domestic and international brands.
Ale-Hop
It is a great place to shop for gifts for any age group.
Lounges at Lisbon Airport (LIS)
Lisbon Airport Car Rental – Some Useful Driving Tips
One of the unavoidable situations that every traveler driving from Lisbon Airport has to face is the roundabouts, which are deemed the busiest in Portugal. Hence, it is advised that you should get yourself familiarized with your car rental before heading out of the airport, and if possible do plan a route in advance. And, drive slowly.
Though travelers should avoid taking their cars into Lisbon's historic center but in case you are going to do just that, make it a point that you drive as slowly as you can. Also, note that in the historic district, signposting is nearly nonexistent, 'drivers cutting without indicating' is a common occurrence, and most of the roads are one-way!
Last but not the least, trams!! They are an integral part of Lisbon; they are given priority when it comes to giving 'way'. In case a tram stops in front of you, you should never overtake it as it is illegal and can lead to on the spot fine. Similarly, at some places, where there are no trams, if you see horse-drawn vehicles, note that they are to be given priority.
10 Days in Portugal
You can start your explorations immediately after arrival at Lisbon airport, just pick up your car rental, drive to the city of Lisbon and start exploring. There is certainly no time to waste! Here are the cities with a few ideas about the 'points of interests' that you should visit.
If you are visiting Lisbon with the aim to explore Portugal, here we are covering 10 days' worth of things to do in various cities, starting with Lisbon. Depending on the fact whether you have a day, a couple of days or a full 2 weeks' time at hand, you can plan your trip accordingly.
Places to See in Lisbon
Lisbon Oceanarium
Santa Justa Lift
Lisbon Cathedral
25 de Abril Bridge
Places to See in Évora
Capela dos Ossos
Roman Temple of Évora
Almendres Cromlech
Igreja de São Francisco
Places to See in Obidos
Castle of Óbidos
Bacalhôa Buddha Eden
Vila Natal
Lagoa de Óbidos
Places to See in Alcobaca
Alcobaça Monastery
Monks Park
Castle of Alcobaça
SPOTdesign GALERIA
Day 5 Nazare & Batalha monastery
Places to See in Nazare
Miradouro do Suberco
Nazare Lighthouse
North Beach
Church of Nossa Senhora da Nazaré
Day 6 Coimbra & Conimbriga's Roman Ruins
Places to See in Coimbra
Convent of Christ
Biblioteca Joanina
Portugal dos Pequenitos
Old Cathedral of Coimbra
Day 7 Aveiro & Mata Nacional do Buçaco
Places to See in Aveiro
Costa Nova Beach
Natural Reserve of São Jacinto Dunes
Praia da Barra
Museum of Aveiro (Sta. Joan)
Places to See in Douro Valley
Vineyard Quinta do Panascal
Museu do Douro
Parque Natural do Douro Internacional
Santuário de Nossa Senhora dos Remédios
Places to See in Porto
Douro
Dom Luís I Bridge
Livraria Lello
Palácio da Bolsa
Places to See in Sintra
Pena Palace
PQuinta da Regaleira
PCastle of the Moors
PPalace of Sintra
Lisbon Airport Car Rental – FAQs